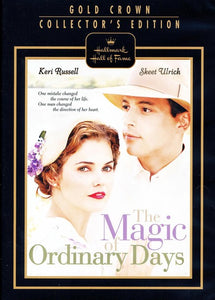 1944. World War II. Colorado. Livy Dunne (Russell) has been thrown out of her home by her father, Rev. Dunne, because she's pregnant and unmarried. She's banished to rural Colorado, to go through with an arranged marriage to a lonely farmer, so her child will have a father. When she arrives in the tiny town, Livy and her betrothed are wary of each other. Worldly Livy is bored by Ray and the hardscrabble life he leads—despite his inherent goodness and wisdom. As the months pass, Livy learns more about this calm, practical self-effacing farmer. Slowly almost imperceptibly, Livy realizes she may have found home quite accidentally.
Starring Keri Russell, Skeet Ulrich and Mare Winningham.
Includes "Making of" featurette, behind-the-scenes interview, biographies, credits and production story.
Full-screen version; closed captioned.
Approx. 110 minutes running time.
Originally aired 1/30/05.