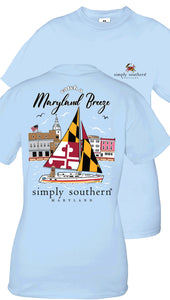 NOW SHIPPING!
This short sleeve, crew neck unisex t-shirt in 100% cotton is EXCLUSIVE to Maryland area Hallmark Gold Crown and not available from other Simply Southern dealers.   The design on the back reads "Catch a Maryland Breeze" and features a Maryland Sailboat in the harbor at Annapolis.   In the background, find the top of the iconic Maryland State House.  The sailboat has guests of a couple crabs and, of course, the traditional retreiver.  The boat registration number is the founding date of the state 4 28 1788.
The color of the shirt is listed as Ice blue, which is similar to a powder blue.  Please note that the color shown on the photos may not be an exact match to the color due to camera, lighting and computer/phone screen variations.  
The front breast features a crab in the Maryland flag pattern.
Custom designs are limited quantities.  Once a size is sold out, that's it! Custom/Exclusive designs do not restock.