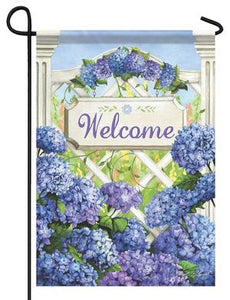 This gorgeous, floral hydrangeas garden flag features an abundant display of purple hydrangea blossoms climbing up a garden gate trellis. The white lattice gate contrasts beautifully with the rich purple hues, while the "Welcome" message reads correctly from both sides. Artwork by Janet Stever.
FlagTrends by Carson Dura Soft Garden Flags are made of an innovative soft material that has better durability than many other printed flags. It consists of a 3-ply construction with a center batting panel that blocks the light from bleeding through the other side allowing each flag to be double sided. This flag will fit on any garden pole, not included.
Flag size 13" x 18".